Kangaroo Shop
Kangaroo Gift Shop offers a collection of kangaroo themed gift items from Australia.

Did you know how kangaroo's got its name?
When Europeans first saw kangaroos they asked a native Australian what they were called. He said 'Can-ga-roo' meaning 'I don't understand your question'. The explorers thought this was the animal's name.
All prices include Airmail delivery ( 5-12 days )
Australian Animals Finger Puppets

The fun never ends with these fantastic furry friends on your fingertips!

A set of six finger puppets - Aussie animals: Platypus, Galah, Kangaroo, Koala, Crocodile and green Frog

Price is for set of six including postage

For quantity/price options - click on the picture

Price: US$39


Canned Kangaroo Toys

Have you tried canned kangaroo?
This new recipe is proved to be good fun

Perfect gag gift soft kangaroo toy in standard size can

Quantity discount applies when ordered with the other canned toys

Price: US$33


| | |
| --- | --- |
| Q-ty, can | Price per can in USD, including delivery |
| 1 | $33 |
| 2 | $27 |
| 4 | $25 |
| 6 | $23 |
| 8 | $20 |
| 10 | $18 |
| 15 | $17 |
| 20 | $16 |
| 30 | $15 |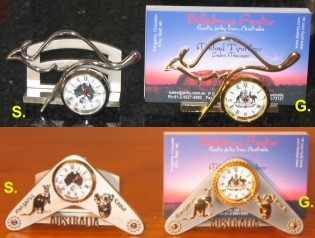 Business Card Holder

Kangaroo business card holders - elegant business desk accessories
It's metal, not plastic.
Available in Silver and Gold plated finishing.

Good quality desk clock with replaceable battery.

Business card holders are also available in Boomerang design.

Please, select the style below.

Price: US$40


Prices below are in US$ per card holder
include delivery by Airmail (7 - 12 days)
| | | | | | |
| --- | --- | --- | --- | --- | --- |
|  Quantity | 1 | 3 | 5 | 10 | 20 |
| Price, US$ | $40 | $37 | $35 | $32 | $29 |
For 50+ units quantity, please email us
Koala and Kangaroo Christmas Decorations

Perfect Christmas gift from Australia

Koala and Kangaroo wooden Christmas decoration set is cut from highest quality Australian timber and will give a festive Australian touch to any Christmas tree.
Consists of 2 animals with red ribbons, presented in a small, light, clear packet.

Packet size: approximately 90mm (3 1/2') x 205mm (8')

Price: US$27


Quantity, packet
1
3
5
10
US$27
US$57
US$85
US$150
Boxing kangaroo pens

Action gift from Australia - boxing kangaroo pen

Price: US$15


Pens kangaroo with joey

Small gift from Australia - pen kangaroo with joey.

Price: US$15


Kangaroo Road Sign Products

High quality kangaroo road sign vinyl placemats, stickers, magnets and key chains
Fridge magnets 1 3/8 inch / 4.8cm
Key chains 1 3/8 inch / 4.8cm
Stickers 3 1/8 inch / 8cm
Swing signs 4 7/8 inch / 12.5cm
Placemats 7 1/2 inch / 19cm
Road sign medium 10in / 25cm
Road signs large 15 inch / 38cm

Price: US$15


Kangaroo OzBeanz toy

OzBeanz kangaroo toy is made of soft new polyester fiber material and filled with polyester beans and fiber.

4 inch / 10cm

Price:
1 at US$25
2 at US$18
5 at US$15
10 at US$12

Price: US$25


Small kangaroo stuffed toys

Small kangaroo stuffed toys are made of new soft and fluffy polyester fur and filled with soft polyester fiber

Available sizes
4.5 inch, 5 inch and 7 inch

Price for 4.5in:
1 at US$25
2 at US$20
5 at US$15
10 at US$11

Price: US$25


Kangaroo stuffed toys

Medium size kangaroo stuffed toys are made of soft and fluffy polyester fur and filled with soft polyester fiber

Available sizes
8 inch, 10 inch and 13 inch

Price: US$25